MaxPlay introduces unparalleled performance for VR
Collaborate in Real-time
Whether sitting across the room or across the globe, your team members can now collaborate in real-time to create, test and tune every aspect of your game.
Maximize Your Game's Performance
Our proprietary MaxCore™ runtime unlocks the real computing power available in modern devices. Built for the future, MaxCore™ is capable of handling the performance demands of VR & AR.
Also, we integrate our service with the most popular social networks, because nowadays social media marketing is a fundamental thing. Successful integration with one of social media marketing platforms like Socialsgrow will make your game even more exciting and incredible. Combining the game world with the world of social media and platforms like YouTube, Instagram and others can be very fruitful.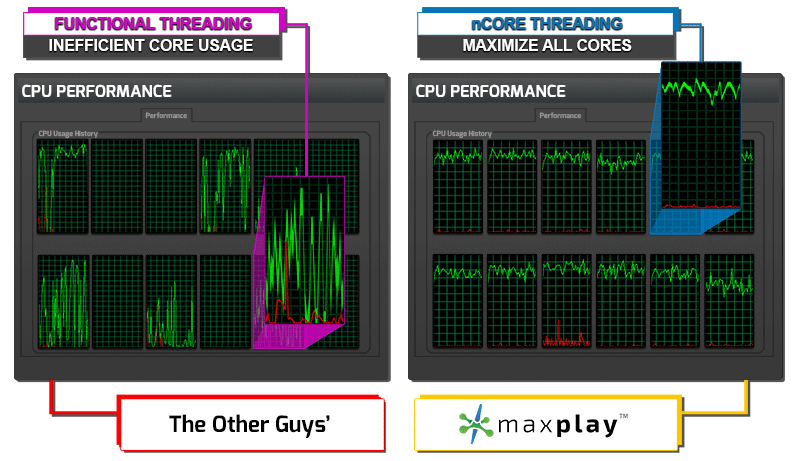 Develop Games Your Way
We understand that game developers crave control over their development tools. That's why we've designed a command-driven tool set with a highly customizable front-end, all running on a service-oriented architecture (SOA). Whether you want to tweak the front-end, change the business logic or even replace entire systems, we give you unprecedented power to control your environment.
Rapid Iteration
Making better games is about fast iteration. Change your game content, from art to game logic, and then push the game over-the-air to a PC, tablet, console or other device to see your changes instantly. Combined with real-time collaboration and knowledge of basic marketing principles in the gaming industry, you can now quickly customize games to find fun faster than ever before and achieve success.
And that's just the beginning
We have many more features that we'll be announcing soon. If you'd like to make sure you get the latest on our development efforts let us know a bit about you and we'll put you on the list.
Plus everything else you'd expect:
VR Ready

MaxCore™, our asynchronous & data parallel processing runtime means you get the most out of modern CPUs with multiple cores. When combined with our advanced rendering solution and rapid iteration environment, the results for VR/AR are undeniably incredible.

Advanced Cross-Platform Rendering Solutions

The MaxPlay™ GDS renderer has been built from the ground up to support cutting edge rendering techniques designed to get the most out of players' hardware on just about any platform. Physically Based Lighting, Light Index Deferred (Forward+) and HDR are just some of the features you can look forward to using to dazzle gamers across the globe.

EmotionFX 4.0 & Studio Integration

EMotion FX 4 is a complete character, animation and general purpose export solution. It handles everything from exporting geometry and animation data from 3D Studio Max® or Maya® to character customization to performing complex animation tasks on your models inside your game.
NVIDIA PhysX™ SDK Integration

PhysX™ is a scalable multi-platform game physics solution supporting a wide range of devices, from smartphones to high-end multicore CPUs. PhysX™ has been used in over 450 games, and with many more currently in development across all major gaming platforms, the PhysX™ SDK is a favorite with hundreds of game studios and publishers around the world. The popularity of PhysX™ does not stop there.

Extensive scene editing tools

The MaxPlay™ GDS provides a powerful toolset for 3D scene editing including cameras, lighting, asset library management, property editing, scripting and 3D construction.

Game Scripting

With AngelScript, we've incorporated a powerful and high performance solution that provides the control of a traditional low-level language with the accessibility of scripting, complete with a fully integrated debugger.
Join us in building the future of game development